Day 1: Nairobi – Masai Mara
Pick up from your hotel at 0730 hrs and drive via the scenic Great Rift Valley, to the Mara Reserve arriving in good time for lunch. Afternoon game drive is taken. Dinner and overnight at Mara Serena Lodge /similar
Day 2&3: Masai Mara National Reserve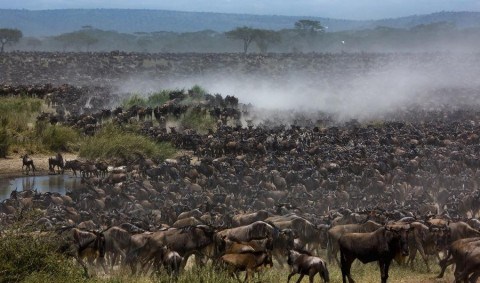 Full days spent exploring the park in search of the Big 5. Dinner and overnight at Mara Serena Lodge /similar
The Masai Mara reserve is Kenya's most popular game park because it hosts an amazing concentration of wildlife. You are almost guaranteed to see the Big 5. Lions abound throughout the park as do leopards, cheetah, hyenas, giraffe, impala, wildebeest, topi, baboons, warthogs, buffalo, zebra, elephants, and of course hippos and crocodiles in the Mara River.Over 450 species of birdlife have been identified in the park among them 57 species of birds of prey, including vultures, marabou storks, and hornbills, crowned cranes, ostriches, long-crested eagles, and African pygmy-falcons. These birds are prolific and come in every size and color including common but beautiful ones like the lilac breasted roller and plenty of other large species like eagles.Every July (or sometimes August), the wildebeest travel from Tanzania's Serengeti plains, northwards to the Masai Mara and the Mara River is the final obstacle. In October or November
Day 4: Masai Mara -Serengeti National Park
We leave the campsite and drive through the southern part of the reserve viewing game as we proceed to the Tanzanian border at Isebania / Sirari. We stop for the night in a quiet town on the shores of the immense Lake Victoria known as Musoma. The surrounding countryside is home to many different tribes including the Kuria, Jita, Luo, and Taturu. Musoma's colorful port and variety of tribes make it a vibrant town.Our journey continues into the great grassland plains of Serengeti National Park. Dinner and overnight at Serengeti Serena Lodge
Day 5:Serengeti National park
Full days in Serengeti dedicated to morning, mid-morning and afternoon game drives. All meals and and overnight Serengeti Serena Lodge
Serengeti is Tanzania's largest and best-known national park, with a massive concentration of migratory animals who move around the park according to the availability of food.
Serengeti is believed to hold the largest population of lions in Africa due in part to the abundance of prey species.The park also supports many further species, including cheetah, Thomson's and Grant's gazelle, topi, eland, water buck, hyena, baboon, impala, African wild dog and giraffe. The park also boasts over 400 bird species, including ostrich, secretary bird, Kori bustard, crowned crane, marabou stork, martial eagle, lovebirds and many species of vultures. This park is known as one of the best wildlife sanctuary in the world.
Day 6:Serengeti Ngoro Ngoro Crater Via Olduvai Gorge
After an early breakfast, we drive south to the magnificent Ngorongoro crater via Olduvai Gorge with picnic lunches.
Based on fossil evidence found at the Olduvai Gorge, it is known that various hominid species have occupied the area for 3 million years
The annual wildbeest and zebras migration passes through the Ngoro Ngoro Conservation , with moving south into the area in December and moving north in June. This movement changes seasonally with the rains, but the migration will traverse almost the entire plains in search of food. The has a healthy resident population of most species of wildlife, in particular the Ndutu Lake area to the west has strong cheetah and lion populations. Dinner and overnight at Ngorongoro Sopa Lodge perched by the crater rim.
Day 7:Ngoro Ngoro Crater -Lake Manyara
After an early breakfast, we drive Lake Manyara National Park
Lake Manyara National Park takes pride in diversified habitat is mirrored by its varied fauna, with some of the more common and visible large mammal species being the buffalo, elephant, giraffe, zebra, lion and wildebeests. Prominently renowned for its tree-climbing lions, which spend most of the day spread out along the branches of acacia trees, Lake Manyara is also home to troops of baboons and blue monkeys. Along with the astonishing tree climbing lions there are the usual browsers and grazers as well as the curios-looking banded mongoose.
Meals and overnight at Manyara Serena Lodge\Similar
Day9:Lake Manyara -Arusha -Zanzibar
ter breakfast depart for Arusha to arrive by 1200 hrs – lunch at Arusha Town hotel then transfer to the airport to board an afternoon flight to Zanzibar , on arrival, our representative will meet you and transfer you to Ocean paradise beach resort to start your beach vacation
Day 10& 11.Zanzibar Beach Resort
Full day in Zanzibar enjoying optional beach activities dinner and overnight at Ocean Paradise Beach Resort /Similar.
Day 12.Zanzibar –Kilimanjaro/Jomokenyatta airport.
Morning at leisure afternoon transfer to the airport for flight to Kilimanjaro International airport, connect for your flight out.

Package Includes:
-Transport in a 4×4 Land Cruiser with a pop up roof -each person is guaranteed a window seat Tour price Includes:
– Services of a professional English speaking guides
-Accommodation in double/triple room
– Game drives as per the itinerary
– Game parks or national parks entry fees;
– Three meals per day whilst on safari
– 1 litre Mineral water per person per day
– Complimentary return airport transfers in Nairobi
Price excludes:
– Drinks
– Tipping
– Cultural visits to Maasai Villages costs US$ 25 per person
-Masai Mara Balloon safari @ 450 Dollars per person can be arranged on request
– Flights to Zanzibar -Zanzibar departure airport Taxes – Water sports in Zanzibar
– Personal effects
– Kenya Visas
-pre and post safari hotel accommodation in Nairobi