From Nairobi you will proceed to Aberdares National Park's Ark which overlooks a floodlit waterhole and salt lick and that attracts a host of wildlife. Later you will proceed to Lake Nakuru and finally Masai Mara a home of the big 5 and baloon safaris

Day 2: Nairobi – The Aberdares National park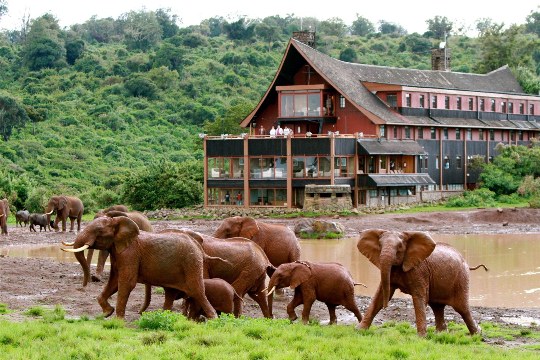 Pick up from your hotel at 0800 hrs and enjoy a scenic northbound drive to the Aberdares region with lunch at the Aberdare Country Club. A transfer will be provided to the Ark which overlooks a floodlit waterhole and salt lick and that attracts a host of wildlife. Modeled after Noah's Ark, The Ark has four viewing decks with balconies and lounges to provide superb game viewing from the comfort of the lodge. A ground-level bunker provides excellent photographic opportunities, and the waterhole is floodlit by night to enable all-night viewing of game. Afternoon is at leisure with game viewing at the Lodge.
Day 3: Aberdares – Lake Nakuru National Park
Depart for Lake Nakuru National park arriving in good time for lunch. Proceed for game drives at the pink lake famed for numerous species of birdlife and specifically the pink flamingoes .Dinner and overnight stay at Flamingo hill Camp
Lake Nakuru's claim to fame is anchored on its flamingo's and the over 400 species of birds found here. The lake itself is a soda lake on the floor of the rift valley. The sight of the at times millions of flamingos is quite spectacular. From a distance the lake appears ringed in pink. The Lake has also earned a reputation as an important haven for endangered species- particularly the Rothschild Giraffe and the black and white rhino. Lions, waterbuck, buffalo and baboons are all residents here.
Day 4 Lake Nakuru – Masai Mara
Depart after breakfast and drive further along the floor of the Rift Valley to Maasai Mara Game Reserve host to the most spectacular array of wildlife, which are constantly changing as the plains game follows ancient migration routes under the watchful eyes of the lion, leopard and cheetah that prey on the vulnerable. Lunch at Mara Leisure lodge followed by afternoon game drives . Dinner and overnight stay at Mara Leisure lodge .
Day 5/6 – Maasai Mara
Full days spent exploring the park in search of the big 5- Optional balloon safari can be arranged at an extra cost of US$ 450 per person or a visit to Masai village US$25 per person. Dinner and overnight stay at Mara Leisure Lodge
The Mara offers wildlife in such variety and abundance that it is difficult to believe: over 450 species of animals have been recorded here. You will easily see lions, rhinos, hippos, crocodiles, giraffe, wildebeests, zebras, buffalo, warthogs, hyenas, jackals, wild dogs, buffalo, leopard, many kinds of antelopes and elephant. It is in the Mara that perhaps the most spectacular event of the natural world takes place. This is the annual migration of millions of wildebeest and zebra from the Serengeti (Tanzania) in search of water and pasture. Following on their heels are the predators of the savanna- lion, cheetah, wild dog, jackal, hyena and vultures.
Day7 : Masai Mara – Nairobi – Depart
After breakfast we drive back to Nairobi to arrive in good time for lunch at the Carnivore restaurant – transfer to the airport to board your home bound flight
Package Includes:
-Transport in a 4×4 Land Cruiser with a pop up roof -each person is guaranteed a window seat Tour price Includes:
– Services of a professional English speaking guides
-Accommodation in double/triple room
– Game drives as per the itinerary
– Game parks or national parks entry fees;
– Three meals per day whilst on safari
– 1 litre Mineral water per person per day
– Complimentary return airport transfers in Nairobi



Price excludes:
– Drinks
– Tipping
– Cultural visits to Maasai Villages costs US$ 25 per person
– Personal effects
– Kenya Visas
-pre and post safari hotel accommodation in Nairobi