From Nairobi, you will head to the Amboseli National Park at the foot of snowcapped Mt. Kilimanjaro, Africa's highest peak. Animal species seen include elephant, zebra, wildebeest, giraffe, impala and leopard. Over 400 species of birds occur in the park includes pelican, bee eater, kingfisher, African fish eagle and pygmy falcon. Afterwards you will proceed to L. Nakuru, Masai Mara, Serengeti, Ngorongoro, Arusha then back to Nairobi

One of the most requested events in the migration is the arrival crossing of the Mara River that occurs around late July to August with parts of September and again on their return south, around the last two weeks of October through early November. These are the best times to track and see the annual wildebeest migration in Masai Mara. While the sight of masses of animals thundering across the open plains is spectacular, the Mara River crossing will take you through a range of emotions – awe, anticipation, heartache, inspiration, excitement and much more. The crossing is the subject of many documentary films from the BBC to the National Geographic, but even superb filmmaking cannot give you the experience of being on-site.
Day 1: Nairobi – Amboseli
Depart Nairobi at 0800 hrs and travel to the Amboseli National reserve at the foot of snowcapped Mt. Kilimanjaro, Africa's highest peak. Arrive in time for lunch. Afternoon game drive is taken. Dinner and overnight at Amboseli Kibo Safari Camp
Day 2: Amboseli National Park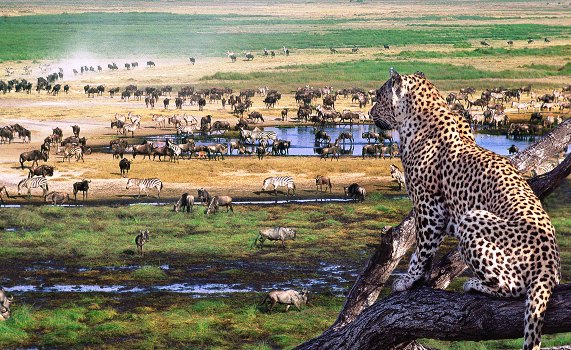 A full day in this photogenic park. Morning and afternoon game drives. Meals and overnight at Amboseli Kibo Safari Camp
Amboseli National Park offers one of the most classic and breathtaking views of Kenya, the gigantic Kilimanjaro mountain. The park has an endless supply of water which is filtered through thousands of meters of volcanic rock from Mount Kilimanjaro. Animal species seen include elephant, zebra, wildebeest, giraffe, impala and leopard. Over 400 species of birds occur in the park includes pelican, bee eater, kingfisher, African fish eagle and pygmy falcon.
Day 3. Amboseli –Lake Nakuru National park
Pre breakfast breakfast ,and drive via the scenic Great Rift Valley, A brief stop at the view point to get a view /take photos of the Great Rift Valley viewing sceneries en route arriving to the Lake Nakuru often referred as the pink lake due to its enormous numbers of Flamingos. Lunch is at the flamingo hill camp followed by afternoon game drives .
The park supports a wide ecological diversity with Flamingos (Greater and Lesser) and other water birds being the major attractions of the area. The ecosystem provides for about 56 different species of mammals including the white rhino and buffaloes and a variety of terrestrial birds numbering nearly 450 species.
Day 5&6: Masai Mara National Reserve
Full days spent exploring the park in search of the Big 5. Dinner and overnight at Mara Olmoran/Similer Lodge
The Masai Mara reserve is Kenya's most popular game park because it hosts an amazing concentration of wildlife. You are almost guaranteed to see the Big 5. Lions abound throughout the park as do leopards, cheetah, hyenas, giraffe, impala, wildebeest, topi, baboons, warthogs, buffalo, zebra, elephants, and of course hippos and crocodiles in the Mara River.Over 450 species of birdlife have been identified in the park among them 57 species of birds of prey, including vultures, marabou storks, and hornbills, crowned cranes, ostriches, long-crested eagles, and African pygmy-falcons. These birds are prolific and come in every size and color including common but beautiful ones like the lilac breasted roller and plenty of other large species like eagles.Every July (or sometimes August), the wildebeest travel from Tanzania's Serengeti plains, northwards to the Masai Mara and the Mara River is the final obstacle. In October or November
Day 7 : Maasai Mara – Musoma- Lake Victoria
We leave the campsite and drive through the southern part of the reserve viewing game as we proceed to the Tanzanian border at Isebania / Sirari. We stop for the night in a quiet town on the shores of the immense Lake Victoria known as Musoma. The surrounding countryside is home to many different tribes including the Kuria, Jita, Luo, and Taturu. Musoma's colorful port and variety of tribes make it a vibrant town. Overnight stay at Serengeti Ndambaka Lodge
Day 8 : Musoma – Serengeti National Park
Leaving in the morning, we drive south and west to the western corridor of the great Serengeti via Ndabaka Gate with a picnic lunch enroute. The afternoon is spent viewing game and we overnight at Ikoma safari camp
Day 9: Serengeti National Park
Full day spent exploring the park . Dinner and overnight stay at Ikoma Safari camp
Serengeti is Africa's most famous and Tanzania's largest park covering 14,736 sq km and is adjoining with the Masai Mara National reserve in Kenya. With a wildebeest population of about 2 million wildebeests and other species of wildlife and predators
Day 10 : Serengeti – Ngorongoro crater
We view game as we drive southeast up into the magnificent Ngorongoro Conservation .Full afternoon crater tour followed by dinner and overnight stay at Rhino /Ngorongoro forest lodge.
The Ngorongoro crater is the world's biggest whole volcanic caldera at 8300 sq km and is arguably the most stunning arena. It is frequently described as one of the wonders of the world, not only because of its geological magnificence, but also because it serves as an extraordinary natural sanctuary for some of Africa's largest populations of large mammals.
Day 11 : Ngorongoro- – Lake Manyara
Breakfast then exit the park and drive to Lake Manyara National park .Explore the park famed for tree climbing lions. Picnic lunch is offered .Dinner and overnight stay at Lake Manyara Twiga lodge The Lake Manyara National park is serene and beautiful with main attractions of a rich bird life, tree-climbing lions, its elephants, and hippos that you can see at closer range than most other places.
Day 12- Lake Manyara-Arusha -Nairobi
Break the Lodge soon after breakfast and drive Arusha to arrive by 1200 hrs, board an afternoon shuttle bus to Nairobi to arrive by 1800 hrs. Drop off at the airport
Tour price includes:-
-Transport in a Custom made tour van in Kenya and 4×4 land cruiser in Tanzania
– 1 night hotel accommodations in Nairobi on bed and breakfast basis
– Accommodations in budget self contained tented Eco Lodges /Camps
– Services of a professional English speaking guide
-All game drives as detailed in the itinerary
-Crater service fees/conservation fees.
– Game parks or national parks entry fees;
– Three meals per day whilst on safari
– 1 litre Mineral water per person per day
–Full board accommodation whilst on safari
-1 night in Nairobi and 2 nights in Kampala on bed and breakfast basis
– Arusha /Nairobi Shuttle transfers
– Start Nairobi – end the tour in Nairobi

Tour price excludes:-
-All personal travel insurance
– Hotel accommodations in Nairobi after the safari
– All personal expenses; e.g. laundry, telephones, beverages, tips,
-Any other extras not stated as included above
-Cultural visits to Masai villages – can be arranged with our guide
– Kenya/Tanzania