Uganda Lodge Holidays will take you to Lake Nabugabo, Bwindi National Park, Mgahinga National Park, Queen Elizabeth National Park, Kazinga channel, Mweya Lodge, Kibale forest, Semliki National Park, Batwa pygmy village and Murchison falls.
The Best of Uganda Safari (9 days / 8 Nights)

One of the most requested events in the migration is the arrival crossing of the Mara River that occurs around late July to August with parts of September and again on their return south, around the last two weeks of October through early November. These are the best times to track and see the annual wildebeest migration in Masai Mara. While the sight of masses of animals thundering across the open plains is spectacular, the Mara River crossing will take you through a range of emotions – awe, anticipation, heartache, inspiration, excitement and much more. The crossing is the subject of many documentary films from the BBC to the National Geographic, but even superb filmmaking cannot give you the experience of being on-site.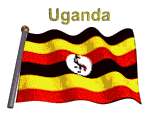 Day 1: Arrival –Entebbe – Murchisons Falls National Park
On arrival at the Entebbe international airport you will be received by our tour manager who will welcome you and give you a brief of your tour after which you will be transferred to Kampala for a short snack break before embarking on you tour, alternatively if you will be staying in a Kampala hotel you will be picked after breakfast then drive northwest through the famous Luwero Triangle and Masindi Town, Stop over at Masindi hotel for lunch. Proceed to Murchison Falls NP via Budongo forest, drive to the top of the spectacular fall where you can see the Nile's perfected beauty, and marvel as it compresses and squeezes itself from over 1 kilometer wide down through a 7-meter canyon. The 150-meter drop of the falls creates a thunderous roar and a beautiful rainbow in a plume of spray – the best thing to ever happen to the Nile. Finally, you can enjoy the sunset as you return to your camp. Dinner and overnight at Red Chillis camp (FB)
Day 2: Murchisons Falls National Park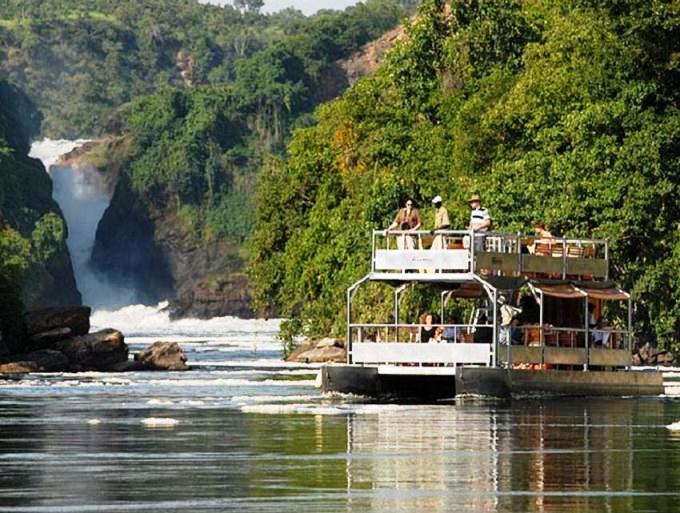 ]After a cup of tea, embark on an early morning game drive on the northern bank where your guide will help you spot elephants, lions, Cape buffalo, Rothschild's giraffes, hartebeasts, waterbucks, oribi, bushbucks, bohor reed bucks, hyenas, and on rare cases leopards. Return to the lodge for breakfast. Relax at the swimming pool side. After lunch, you will safari upstream by boat to the calm Victoria Nile and the base of the falls just tens of meters from the "Devil's Cauldron." There you can marvel at toothsome hippos, crocodiles and over the 17-kilometer stretch you may also see elephants, waterbucks and Uganda kobs. This is also the habitat of many bird species including goliath herons, Egyptian geese, pelican bee-eaters, kingfishers, Hombills, cormorants and the rare shoebill stork. After taking shots of the photogenic Murchison Falls you will return for Dinner and an overnight stay at red chilies camp, or similar. (FB)
Day 3: Kibale National Park
Early morning before sun rise go for another game drive to spot those wild species you could have missed on the previous game drive. Return to the lodge for breakfast at around 10: 30am. Relax at the camp Have an early lunch at 1pm and be ready for the ferry crossing at exactly 2pm. Drive via the Albertaine Escarpment of the western Rift valley on the Masindi-Hoima-Fort portal road. This will be a long drive south via Hoima to Fort Portal, passing though verdant countryside and traditional homesteads and farms. Fort Portal rests in the shadow of the Fabled "Mountains of the Moon," The Journey is long! At least four hours of driving. Dinner and overnight at Budget Sky tree house. (FB)
Day 4: Kibale Forest National Park
After breakfast, full day primate viewing. The activity starts at 8.00 am in the morning. An all day search for chimpanzees and other primates including phoestes, Red-Colobuses, Blues, Red-tailed and grey cheeked Mangabeys swinging through the dense forest and birds, butterflies and many small insects The guide will provide detailed explanations on not only primates, but also on all the forest's fauna and flora, ensuring that your walk is both informative and enjoyable. This walk is excellent for viewing bird life and primates in close quarters. A visit to Bigodi swamp eco-tourism site is amazing, as we shall encounter rare and beautiful flora and fauna. Lunch, Dinner and Overnight at Budget Sky tree house or similar. (FB)
Day 5: Kibale – Queen Elizabeth National Park
After breakfast, Proceed to Queen Elizabeth National Park following the mystical Rwenzori Mountain Range most of the journey. A game drive En-route may be rewarded with view of waterbucks, Elephants, Leopards, Buffaloes, Hyenas and a variety of Antelope species. After lunch, enjoy the unique 2-hour boat cruise on the Kazinga Channel and into Lake Edward. This trip passes through possibly the highest concentration of Hippos and many animals may be seen drinking at the water's edge. This launch cruise offers an excellent platform for photography, bird watching and game viewing. The prolific bird life is colorful and stupendous with well over 550 resident species. Dinner and Overnight at Institute of ecology. (FB)
Day 6: Queen Elizabeth National Park
After breakfast , Embark on an early morning game drive along Kasenyi track and Queens mile in the park and expect to see Lions, Elephants, cape buffalo, Warthogs, leopard, hyena, mongoose, waterbucks, kobs, and lots many small animals and birds. After the game drive, proceed to Bwindi via Maramagambo and Ishasha sector. As you drive along the road via Ishasha sector, animals such as the waterbucks, elephant, antelopes, buffalo, kobs, can be seen along the road. Relax around the Forest camp. Dinner and overnight at Buhoma community bandas (FB)
Day 7: Bwindi Impenetrable Forest National Park.
Begin the day with breakfast ready for trekking, which begins at 8:00 am with a briefing from the UWA staff. Ensure to carry along with you rain jacket, drinking water, snacks, jungle boots etc The guides will lead you inside the jungle to see the shy Primates for a group you have been booked for. Do not forget to take your lunch boxes and all the necessary gear to track the rare Mountain Gorilla, perhaps one of the most exciting .The thrills of spending time with and observing these gentle giant gorillas is a rare, moving, awesome and exciting adventure that will leave you with long lasting memories of a truly unique experience. The gorillas are shy and peaceful animals and it is an unforgettable experience to watch and photograph them as they interact with each other. Dinner and over night at Buhoma community bandas. (FB)
Day 8: Lake Mburo National Park
After an early breakfast, drive to Lake Mburo National Park arriving in good time for lunch after lunch take an afternoon game drive along the lakeshore track, With its own system of game trails and cleared walkways, the "Kigambara Loop" offers interesting guided lakeside walks. Here you can find herds of zebra, cape buffalo and eland, and Pribi and topi. You may opt to a enjoy a boat ride on Lake Mburo or self-guided nature trails walks. Bird watchers will enjoy more than 250 species of birds found in Lake Mburo including Papyrus Gonoleks, Brown-faced Lapwings, Carruther's Cisticolas, the extraordinary White winged Warbler and Bare-Faced Go-away bird. Dinner and overnight at Rwonyo rest camp
Day 9: Kampala
After breakfast drive back to Kampala stops at the Mpigi Royal Drum Makers. Here you will be able to watch the ceremonial drums being crafted using methods passed down through generations. There will also be time to stop at the equator for photographs and you will arrive in Kampala before lunch. (FB)
End of service
Cost: US$ 3745 solo person traveling
Please note the safari cost includes:
Meals and accommodation while on safari,
Full time safari driver/guides with associated expenses
1 chimp permit per person
Park entry fees, all game drives, launch trips, applicable government taxes.
4×4 wheel drive vehicle with gas
Airport transfers.
Safari can be booked privately or you can opt to join a group.

Excluded are:
Drinks, bar bills and drinks, phone calls, personal insurance and any other services of a personal nature like souvenirs tips and laundry etc