Uganda Gorilla Safaris, Uganda Luxury Holidays, Uganda Luxury Tours, Adventure Safaris in Uganda, Uganda Budget Tours, Uganda Lodge Holidays, Uganda Budget Safaris, Gorilla And Wildlife Tours In Uganda, Africa Travel, Africa Holidays, Gorilla Adventures In Uganda, Uganda Vacations, Gorillas In Uganda, Uganda Gorilla Holidays, Uganda Holidays, Uganda Wildlife Tours, Upmarket Tours in Uganda
Gorillas in Uganda, Gorilla Adventures in Africa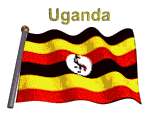 Gorillas are the largest of the living primates. They are ground-dwelling and predominantly herbivorous. They inhabit the forests of central Africa. Gorillas are divided into two species and (still under debate as of 2008) either four or five subspecies. The DNA of gorillas is 98%–99% identical to that of a human, and they are the next closest living relatives to humans after the two chimpanzee species.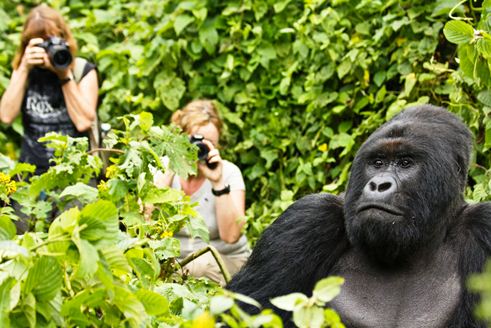 Gorillas live in tropical or subtropical forests. Although their range covers a small percentage of Africa, gorillas cover a wide range of elevations. The Mountain gorillas popularly referred to as the giant apes are the largest primates and living in the Africa rainforests of Africa. The mountain gorilla, or called gorilla berengei berengei is found in Bwindi impenetrable forest and the Virunga mountain ranges in Rwanda/Uganda border.
The gorilla ape specie has 3 races, the western lowland gorilla, the eastern low land gorilla and, gorilla graueri and the mountain gorilla.
Gorilla Trekking in East Africa
Gorilla Trekking in East Africa is done mainly in two countries:-
• Uganda
• Rwanda
Gorilla Trekking in Uganda
Gorilla Trekking in Uganda is done in two places
• Bwindi impenetrable Forest.
• Mount Mgahinga which is part of the Virunga Mountains.
Bwindi Impenetrable Forest
Bwindi's Impenetrable Forest is a true equatorial jungle; inhabited by four Gorilla groups each led by a silverback male. It is the richest, most species-diverse forest in Uganda, as the area is one of the few large expanses of forest in East Africa where lowland and montane communities merge. Massive trees are entangled with creepers and parasitic plants such as mistletoe and orchids. Giant thickets of bamboo thrive in the humid atmosphere and where sunlight breaks through the elegant heliconia, or lobster claw, spreads its colorful petals. Amongst the dense vegetation the Colobus Monkey can be spotted jumping from one branch to another. Chimpanzees, in families of 20 or 30, make the rounds searching for fruit and edible plants.
Bwindi National Park
The park is located in south western Uganda, covering parts of Rukungiri, Kisoro, and Kibale Districts. It was gazzeted in 1991 with an area of 331 sq.km. It is situated in a hilly countryside that, together with some remnant lowland forest outside the boundary, constitute an important water catchments area for many rivers; supplying the agricultural land of the surrounding region.
At least 120 species of mammal are recorded in one of the richest ecosystems in Africa including Gorilla, Chimpanzee, and 8 other species of primate, also Elephant, Bush Pig, Giant Forest Hog, many species of bats and rodents. No less than 346 species of birds are listed including rare forest birds, at least 14 species of snakes, 27 species of frogs and toads, 6 chameleons, 14 lizards, skinks or geckos, and at least 202 species of butterfly. There are also several endangered species of birds with limited ranges. This forest is a sanctuary for almost half the world's population of mountain gorillas; the rarest race of gorilla. Established as a safe habitat for several families of mountain gorillas it is now the location of an important scientific conservation program.
All clients wanting to go Gorilla trekking must obtain a permit, and the days of just turning up at the Park Office at Buhoma and hoping there are permits still available are long gone; the popularity of Gorilla trekking has seen to that. This is not an issue for Gorilla Trails, as all our clients would have their permits purchased in advance to ensure no problems with availability. By booking in advance your itinerary can be structured to work most effectively around available dates.
3 Days 2 Nights A Tour to the Gorillas
Trip Highlights:
This is a three day safari that takes you to Bwindi Impenetrable National Park in South Western Uganda near Ugandan border with Rwanda. This is the home to the endangered mountain gorillas and gives an opportunity to track the gorillas and watch them at close range in their natural habitat.
Day 1: Kampala City – Bwindi Impenetrable National Park
You will have an early breakfast before departing for Bwindi National Park. This is a 9 hours drive. You will have a brief stop over at the equator where you will experience some experiments explaining the differences between the South and the North hemisphere. Thereafter, proceed onwards driving on the Ankole plains having sights of the Ankole cows with very long horns. Proceed to the Kigezi highlands with breathtaking views of the hills and valleys. You will have lunch in a hotel enroute arriving in Bwindi in the evening. You will check in at your camp, bandas or lodge for dinner and overnight.
Bwindi is a world heritage site being the home to the endangered mountain gorillas and being home to almost half of the world population of the gorillas. It is located in the Southwestern part of Uganda. It is mainly a rain forest on the steep slopes of the Albertine Rift Valley. It is also home to more than 90 mammal species including 11 primates of which the white Colobus Mountain with its long white tail is prominent. The major activity here is gorilla tracking, forest walks, bird watching and monkey viewing.
Day 2: Bwindi Impenetrable National Park (Full Day)
Have an early breakfast and set off through the thick forest with your guide to track the gorillas. The weather is usually wet and therefore you are advised to bring jungle boots and rain coats. You will also marvel at the different and unique species of vegetation in the forests. You will have time to view the gorillas once you have tracked them, their behavior in their natural habitat will amaze you. Return to the camp having achieved one of the most envied activities in East Africa. You will have parked lunch in the wild while dinner and overnight will be at your camp, lodge or Banda.
Day 3: Bwindi Impenetrable National Park – Kampala City
Enjoy your breakfast at your camp, lodge or Banda after which you depart for Kampala. You will have a brief stop over at the Mpambire drum makers where you can buy souvenirs before proceeding to Kampala. You will have parked lunch en route. You will arrive in Kampala in the evening. You will then be dropped at the hotel of your choice in Kampala City.
Package Includes:
– All park entrance fees
– Full board accommodation while on this safari
– Service of an English speaking driver/guide
– Transport based on a safari minibus with pop up roof for game viewing
– Driver allowances and park fees for vehicle and driver
– Game drives as per the Itinerary
– Government taxes
-Personal Insurance

Package Excludes:
-Gorilla tracking permit at US$ 500
– Extras at the camps i.e. drinks, telephone, laundry etc.
– International flight fees
– Departure tax
– Tips to porters and drivers
End of Safari
Note: Kindly note that we can arrange for your transfer to and from the airport and also we can arrange for your accommodation in Kampala City before and after the safari at an extra cost. Also note that we can change the itinerary as per your request.
Mgahinga Gorilla National park
Mgahinga Gorilla National park is a well known park for gorilla safaris. At just 33.7km2, Mgahinga Gorilla is Uganda's smallest national park. However, it is also one of the most dramatic for the park lies on the northern slopes of Mts. Muhabura, Mgahinga and Sabyinyo, three volcanoes that create an unforgettable regional backdrop. These peaks are three of the six Virunga volcanoes that mark the southern limit of the Albertine Rift Valley and are divided between Uganda, Rwanda and DR Congo. The Virungas are home to more than half of the world's population of the endangered mountain gorilla. 380 individuals roam the slopes of the volcanoes while the remaining 340 live nearby in Uganda's Bwindi Impenetrable National Park. Fortunately for the gorillas, Mgahinga small area is supplemented by those of two larger, adjoining parks in Rwanda (Volcanoes NP) and DR Congo (Virunga NP).
Gorilla Tracking
Mgahinga's most exciting and memorable activity is tracking the mountain gorilla in thick jungle. The park has one habituated gorilla group (Nyakagyezi) which is visited by tourists. This consists of 11 members; 2 silverbacks, 3 adult females, 4 juveniles and 2 infants. This group is mobile and sometimes crosses into Rwanda and DRC, so check for updates from Uganda Wildlife Authority (see contacts). Registration and briefing for gorilla tracking commences at Ntebeko at 07.45hrs. Tracking starts immediately thereafter and can take three to eight hours.
Sample itinerary for Mgahinga National Park
3 Days 2 Nights Mgahinga Gorilla tour
Trip highlights
This 3 Days Gorilla Tour takes you to Mgahinga National Park, located in South Western Uganda. Mgahinga National Park from Kisoro town is 14km covering 33 sq km in the district of Kisoro which is occupied by the Bafumbira. The park is habituated by the rare mountain gorillas giving room for Gorilla tours. This gorilla tour is carried out in Kisoro.
Day 1: Kampala to Kisoro
Set off from Kampala to Kisoro which is about 540 km from Uganda's Capital city after safari briefing. Overnight at Mgahinga Safari Lodge and Travelers' rest.
Day 2: Gorilla trekking in Mgahinga
An early morning breakfast and later the guide leads you through the gorilla's world, clearing up aspects of their ecosystem and behavior. Gorilla trekking is the most exciting and unforgettable experience, which might take one through a thick jungle for the whole of the day. The tourists group (The Nyakagezi group) consists of 9 members; 3 adult females, 2 silver backs, 2 juveniles and 2 infants. (Tracking can take three to eight hours). This activity can be tiring walk so one has to go geared up. It is prudent that you to wear good toehold shoes suitable for muddy places and binoculars for easy vision. Overnight at Mgahinga Safari Lodge and Travellers' rest.
Day 3: Departure
After a morning breakfast, head back to Kampala and wait for your departure flights.
Cost:
3 Days $300 Per Day = $900 Total – Depending on number of pax
Package Includes:
– All park entrance fees
– Full board accommodation while on this safari
– Service of an English speaking driver/guide
– Transport based on a safari minibus with pop up roof for game viewing
– Driver allowances and park fees for vehicle and driver
– Game drives as per the Itinerary
– Government taxes
-Personal Insurance

Package Excludes:
-Gorilla tracking permit at US$ 500
– Extras at the camps i.e. drinks, telephone, laundry etc.
– International flight fees
– Departure tax
– Tips to porters and drivers
End of the Gorilla tour