Day 1: Nairobi – Masai Mara

Pick up from your hotel at 0730 hrs and drive via the scenic Great Rift Valley, to the Mara Reserve arriving in good time for lunch. Afternoon game drive is taken. Dinner and overnight at Mara Serena Lodge
Day 2: Masai Mara National Reserve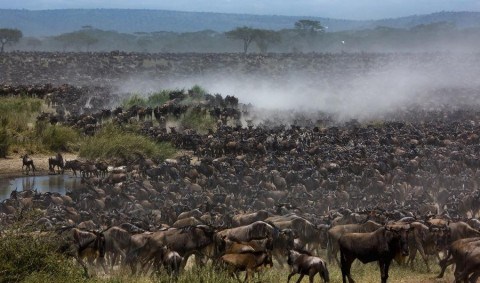 Full day spent exploring the park in search of the Big 5. Dinner and overnight at Mara Serena Lodge /similar
The Masai Mara reserve is Kenya's most popular game park because it hosts an amazing concentration of wildlife. You are almost guaranteed to see the Big 5. Lions abound throughout the park as do leopards, cheetah, hyenas, giraffe, impala, wildebeest, topi, baboons, warthogs, buffalo, zebra, elephants, and of course hippos and crocodiles in the Mara River.Over 450 species of birdlife have been identified in the park among them 57 species of birds of prey, including vultures, marabou storks, and hornbills, crowned cranes, ostriches, long-crested eagles, and African pygmy-falcons. These birds are prolific and come in every size and color including common but beautiful ones like the lilac breasted roller and plenty of other large species like eagles.Every July (or sometimes August), the wildebeest travel from Tanzania's Serengeti plains, northwards to the Masai Mara and the Mara River is the final obstacle. In October or November
Day 3: Masai Mara – Lake Nakuru National Park
We depart soon after breakfast and proceed to Pink Lake to arrive in good time for Lunch. Late afternoon game drives followed by dinner and overnight stay at Flamingo Hill Camp
Lake Nakuru National park is famous for its huge flocks of flamingos that enjoy the alkaline waters of this shallow soda lake. Other than a million flamingos and many more species of birds, the park is also home to white rhino, warthog, giraffe, hippo, ostrich and lion.
Day 4 : Lake Nakuru – Amboseli National Park
Depart soon after breakfast and drive to Amboseli national park via Nairobi with packed lunches. Afternoon game drives then proceed to Amboseli Serena Lodge /Similar for dinner and overnight stay.
Day 5: Amboseli National Park
A full day in this photogenic park. Morning and afternoon game drives. Meals and overnight at Lodge.
Amboseli National Park offers one of the most classic and breathtaking views of Kenya, the gigantic Kilimanjaro mountain. The park has an endless supply of water which is filtered through thousands of meters of volcanic rock from Mount Kilimanjaro. Animal species seen include elephant, zebra, wildebeest, giraffe, impala and leopard. Over 400 species of birds occur in the park includes pelican, bee eater, kingfisher, African fish eagle and pygmy falcon.
Day 6: Amboseli – Tsavo West
Pre breakfast game drive; depart the lodge by 6:30 A.M and this will give you the opportunity to view the African sun rise and you will also get the chance to spot any game species you might have missed on our previous game drives. Return to the lodge for your full breakfast shortly afterwards depart following a convoy to Tsavo West arriving in time for lunch. You will be assisted to check into your respective rooms and after lunch you can spend the afternoon at leisure. Later head out for the evening game drive. Tsavo west which is also known as "Land of lava, Man eaters & Springs" is famous for the man eating lions that preyed on workers building the railway line to Uganda. Tsavo is equivalent in size to Israel covering 4% of Kenya land mass. Mzima springs a wet land is so lush and green and serves as a water tower that gushes out 450 million litres of clean water every day. The walk around the banks springs of mzima offers the opportunity to marvel at schools of hippos lazing around. The observation Chamber sank below the waters enable tourist to view marine life. The game drive includes visit to the shetani lava flow and the five sister hills. Dinner and overnight at Kilanguni Lodge.
Day 7: Tsavo West – Tsavo East
An early breakfast followed by a game drive. Depart and head to Tsavo East N/P arriving in time for lunch. Tsavo west and Tsavo east combined are the biggest parks in Kenya. Tsavo East is also known as the "Theatre of Wild". Spend the afternoon at leisure and later go for the evening game drive. Visit the Galana River and Rhino sanctuary created to protect rhinos from poachers. Tsavo is a vast flat plain broken by the long length of the galana river. This is one of the areas elephants have been able to follow ancient migratory route as they have for a millennium. Elephants of tsavo have a distinctive brick red colour shade of dust that elephants like to wallow and bath in. Tsavo East has vast amounts of diverse wildlife that can be seen, including the famous 'big five' consisting of lion, black rhino, cape buffalo, elephant and leopard. The park also is also home to a great variety of bird life such as the black kite, crowned crane, lovebird and the sacred bird. Dinner and overnight at Voi Safari Lodge.
Day 8: Tsavo East -Mombasa
Early morning game drive. Soon after breakfast we proceed to Mombasa arriving at 1400 hrs.Drop off at a beach hotel to start a beach holiday.
Day 7/8/9. Mombasa Beach Holiday.
Days spent relaxing and sun bathing at the Sarova white sands beach resort
Day 10 Mombasa – Nairobi – departure
Transfer to the airport to board a flight to Nairobi arriving in good connecting time with your home bound flight.

Tour price includes
– Full board accommodation on Full Board
– Complimentary return airport transfers in Nairobi
-Transport on custom made 8 seater tour van ideal for game viewing and photography
-Full board accommodation whilst on safari
-Extensive game drives as per the itinerary
– All Park entrance fees
– Lunch at the Carnivore Restaurant
– Service of an English speaking professional driver/guide
– 1 litre Mineral water per person per day
– Mombasa Nairobi return flights as quoted above
– 4 nights accommodations at beach hotel on Half board basis breakfast/dinner
– Tour starts/ends in Nairobi
TOUR COST EXCLUDES:
– All items of a personal nature
– All drinks
– Hot air balloon safari US$ 450
– Tipping
– water sports while in Mombasa
– Cultural visits to Maasai villages costs US$ 25
– Personal effects
– Kenya Visas