From Nairobi you will head to Meru National Park to see large herds of elephants, reticulated giraffes and buffaloes are present in the park as well as lions, hippos and cheetahs. You will later proceed to Samburu National Park, Lake Nakuru and finally Masai Mara
Day 1:Nairobi –Meru National Park

Depart from Nairobi 0730hrs after breakfast and proceeding to Meru national park .
Have lunch at the Leopard Tented camp. After lunch you relax and proceed for a game drive. Dinner and overnight at the Leopard tented camp./ Elsa's Kopje
Day 2: Full day Meru National Park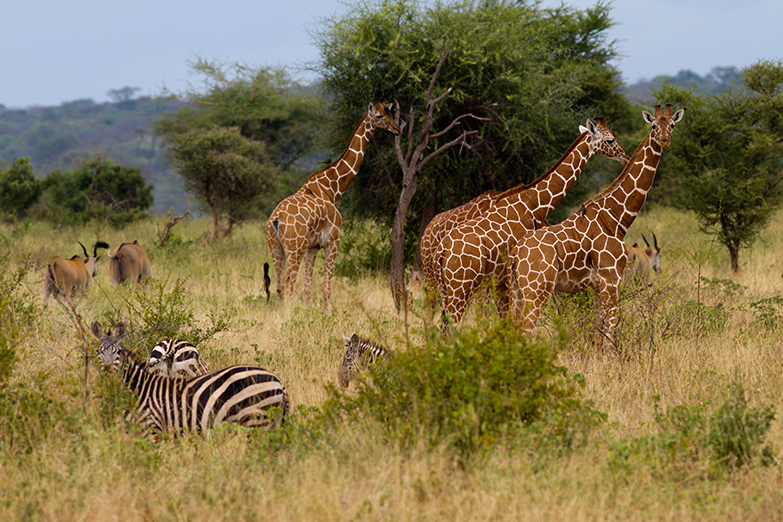 Meru National Park is wild and beautiful. Straddling the equator and bisected by 13 rivers and numerous mountain-fed streams, Large herds of elephants, reticulated giraffes and buffaloes are present in the park as well as lions, hippos and cheetahs. In the more open areas you'll find generuks, zebras and ostriches. Antelopes are pretty rare. White rhinos have been introduced into the park . Over 300 species of birds have been recorded in this park, the Pel's Fishing Owl, kingfishers, rollers, bee-eaters, starlings and numerous weavers.
All meals and overnight at Leopard tented camp. / Elsa's Kopje
Day 3: Meru National Park- Samburu Game Reserve
Breakfast and depart for Samburu arriving at the campsite for game viewing, a chance to see lions, elephants, gerenuk, grevy's zebra, onyx, the reticulated giraffe and other plains game. Dinner and overnight at Samburu Serena lodge / Samburu Serena lodge
Day 3: Samburu Game Reserve
Morning game drive followed by breakfast, spend the morning at leisure at the lodge pool or the terrace overlooking the river. After lunch proceed for an afternoon game drive. Overnight at Samburu serena Game Lodge
Some unusual animal species can be found here; the Reticulated Giraffe, Oryx, Lesser Kudu, Grevy's Zebra, and the Gerenuk, known as the "Giraffe Gazelle".Samburu also offers superb bird-watching with numerous weaver birds, the marital eagle and the blue legged Somali ostrich. Afternoon game drive. Dinner and Overnight at Samburu Sopa Lodge.
Day 4: Samburu – Lake Nakuru National Park
Depart after breakfast and drive via Nyahururu Falls to Lake Nakuru, in time for lunch and an afternoon game drive.Lake Nakuru's claim to fame is anchored on its flamingo's and the over 400 species of birds found here. The lake itself is a soda lake on the floor of the rift valley. The sight of the at times millions of flamingos is quite spectacular. From a distance the lake appears ringed in pink. The Lake has also earned a reputation as an important haven for endangered species- particularly the Rothschild Giraffe and the black and white rhino. Lions, waterbuck, buffalo and baboons are all residents here
Dinner and Overnight at Flamingo Hill camp/Sarova Lion Hill.
Day 5:Lake Nakuru – Masai Mara
We break the camp/depart the lodge soon after breakfast and proceed to Maasai Mara to arrive in good time for Lunch. Late afternoon game drives followed by dinner and overnight stay at Mara Sarova lodge/Serena Lodge
Day 6 & 7: Masai Mara Game Reserve
Full day spent exploring the park in search of the Big 5. Dinner and overnight at Mara Serena Lodge/similar
The Masai Mara reserve is Kenya's most popular game park because it hosts an amazing concentration of wildlife. You are almost guaranteed to see the Big 5. Lions abound throughout the park as do leopards, cheetah, hyenas, giraffe, impala, wildebeest, topi, baboons, warthogs, buffalo, zebra, elephants, and of course hippos and crocodiles in the Mara River.Over 450 species of birdlife have been identified in the park among them 57 species of birds of prey, including vultures, marabou storks, and hornbills, crowned cranes, ostriches, long-crested eagles, and African pygmy-falcons. These birds are prolific and come in every size and color including common but beautiful ones like the lilac breasted roller and plenty of other large species like eagles.Every July (or sometimes August), the wildebeest travel from Tanzania's Serengeti plains, northwards to the Masai Mara and the Mara River is the final obstacle. In October or November
Day 8: Masai Mara – Nairobi
Morning game drives then drive to Nairobi via Narok; we stop to browse in the bustling, vibrant Masai markets to buy curios and handicrafts before continuing to Nairobi and drop off at the airport where our safari ends.
FROM $4,994 PP*
Package Includes:
-Transport in a 4×4 Land Cruiser with a pop up roof -each person is guaranteed a window seat Tour price Includes:
– Services of a professional English speaking guides
-Accommodation in double/triple room
– Game drives as per the itinerary
– Game parks or national parks entry fees;
– Three meals per day whilst on safari
– 1 litre Mineral water per person per day
– Complimentary return airport transfers in Nairobi



Price excludes:
– Drinks
– Tipping
– Cultural visits to Maasai Villages costs US$ 25 per person
-Masai Mara Balloon safari @ 450 Dollars per person can be arranged on request
– Personal effects
– Kenya Visas
-pre and post safari hotel accommodation in Nairobi